Used Empire Mini GS Electronic Paintball Marker Gun Blue with Black Accents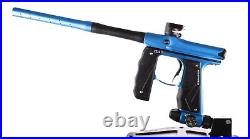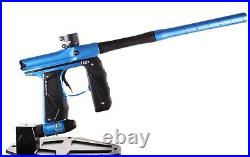 Used Empire Mini GS Electronic Paintball Marker Gun Blue with Black Accents. Introducing this Pre-Owned Empire Mini GS Electronic Paintball Marker Gun, the next generation of a paintball marker legend! This top-of-the-line marker has all of the essential features necessary for superior performance, plus some added extras. It has a full wrap-around rubber foregrip that not only creates a secure grip but also protects you from any splatters. The On/Off ASA ensures that there are no thread issues and makes it smooth to remove your tank.
Furthermore, this design allows for a simple drop-in of the Redline OLED board without switching out the foregrip. To make sure you can handle all conditions, the Empire Mini GS has reinforced ASA and Foregrip attachment points. For your convenience, it also offers additional features such as hoseless design, eyes, and clamping feedneck. Ready to take your game to the next level? Get started with the Empire Mini GS Electronic Paintball Marker Gun today!
Featured here is a used Empire Mini GS. Cosmetic (physical) condition of marker: 98/100 (Excellent Condition). Mechanical (working) condition of marker: 100/100. Grab this used paintball marker for a FRACTION of the price compared to a new paintball marker.
Every used paintball marker is tested, cleaned, lubed, and teched (if needed). Buyers of Airsoft Guns must be 18 years old. All Airsoft Guns have a permanently attached blaze orange tip according to Federal and/or State Laws.
This prevents the Airsoft Gun from being mistaken for a real firearm. We have completed tens of thousands of deals and want to make you our next satisfied customer!
We offer the lowest price on quality new and used paintball guns and will not be undersold. We have the most knowledgeable staff of the used paintball equipment market in the world. Since 2006 we have logged over 100,000 trades... We offer fair wholesale cash offers on all types of paintball guns and gear.