Umarex T4E HDB Shotgun. 68 Caliber Training Paintball Gun Marker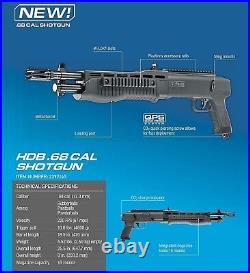 The T4E TB 68 shotgun provides a new level of power and maneuverability in a magazine-fed marker platform. The compact HDB is powered by a single 12-gram CO2 cartridge housed in the grip and pierced via the Quick Pierce charging mechanism. This allows the marker to be stored with ammo in the magazine and CO2 ready to go at a moment's notice. The internal magazine holds 16 rounds of.
68 caliber rubber, paint, or dust ball ammo. Fantastic as a recreational paintball gun but the TB 68 is also a great tool to use for law enforcement training or crowd control.
68 caliber projectiles will travel at 220 FPS and the CO2 cartridge will effectively launch all 16 projectiles before it needs to be changed. This marker is rated for 6.8 Joules. 68 Caliber Rubber, Paint, Inert Dust, or Pepper Dust Ammo.
Powered by a single 12g CO2 capsule. Quick Pierce CO2 Piercing Mechanism.
Charging Indicator for Positive CO2 Piercing. Internal Magazine Holds 16 Rounds. Fixed Rear Notch Sight and Front Iron Sight.
Durable Polymer Grip and Fore End. (when applicable) intact and included. All items are well taken in a smoke-free and pet-free environment.