Umarex T4E Glock 17 G17 Gen 5.43 CO2 Paintball Gun Pistol, Standard Ed. 2292167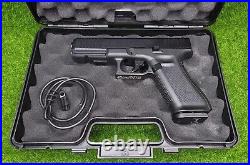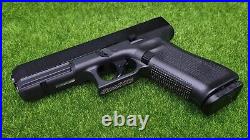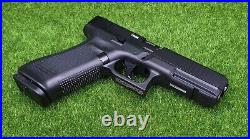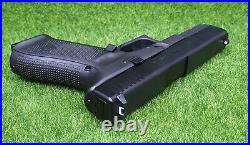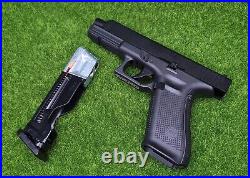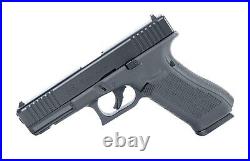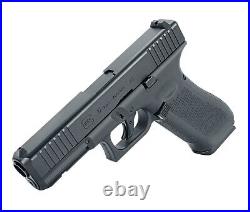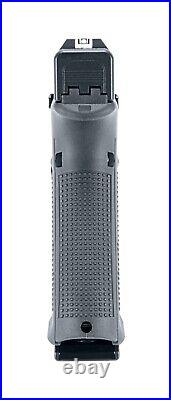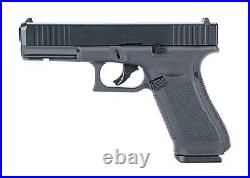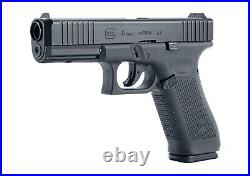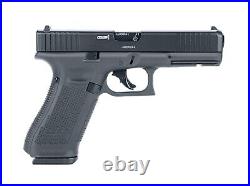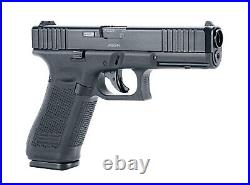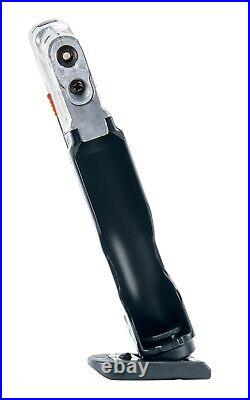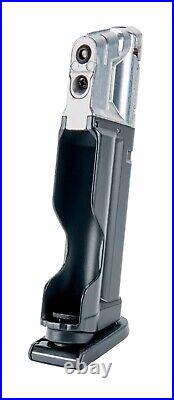 Umarex T4E Glock 17 G17 Gen 5. 43 Paintball Gun Pistol, Standard Ed. This tagline announces the debut of the first officially licensed GLOCK T4E marker for paintball enthusiasts. Players can now experience the perfection of a. The all-new marker is an authentic counterpart of the GLOCK 17 Gen5 and is compatible with the full range of GLOCK-typical accessories. Made in Germany from top-grade materials, this CO2-operated marker will prevail in any match and is ideal for training scenarios at home. Whether used as a backup marker or operated in a pistol-only mode during MagFed paintball, the GLOCK 17 Gen5 T4E is optimized to meet all the requirements of ambitious competitors. The 8-round magazine, which can hold either paint- or powderballs in caliber. 43, also accommodates a 12-gram CO2 cartridge that can be swapped without tools in seconds when on the field. A quick-piercing magazine is available as an optional accessory.
When you need a new cartridge, you just insert it and pierce it with a light blow at the bottom of the magazine. With its CNC-machined aluminum slide (AW 7075), powerful blowback, and first class workmanship, this marker cuts a good figure alongside the 9-mm Luger original. The polymer frame accommodates original backstraps, the rear light is compatible with tuning parts of the GLOCK accessories market, and extremely tight manufacturing tolerances ensure a secure fit in most standard holsters from makers like Blackhawk, Safariland, and GLOCK. The GLOCK 17 Gen5 T4E sets new standards for markers and players. Its superior performance is the result of meticulous development work and precision manufacturing according to our rigorous quality standards - Made in Germany.
Make no mistake, the GLOCK 17 Gen5 T4E paintball marker is the game-changing solution the mag-fed paintball world has been yearning for. Suitable for all T4E Roundballs in cal.
Officially Licensed Product of GLOCK. 43-caliber GLOCK T4E paintball marker. Ideal for MagFed paintball and training purposes. Up to 360 fps (110 meters per second). CNC-machined slide made of high-strength aluminum (AW 7075). Polymer frame with optional lanyard attachment. Ambidextrous slide stop lever, reversible magazine release button. Magazine (8 rds) with tool-free CO2 capsule piercing. Optional Quick-Piercing Magazine available as an accessory. Compatible with GLOCK sights, GLOCK holsters, and many other aftermarket parts.
Up to 90 shots from one CO2 capsule. Standard Edition comes with cleaning squeegee, interchangeable mag ejector lanyard, and T4E case. Airsoft Guns unless they follow CA SB199 requirements. 18 caliber must have a velocity of less than 700 FPS or an Illinois Firearms license is required. Silencers, baffles, mufflers or suppressors...
Internal, removable or non-removable (does not include fake suppressors). Pellet guns & BB guns. Are considered firearms per NJ state law. Airsoft guns may be restricted by some local laws. It is up to you to determine if airsoft guns may be owned/possessed/used without special permits in their locale.
New York City & it's 5 boroughs: Manhattan, Brooklyn, Bronx, Queens & Staten Island incl. ZIP Codes 100xx-104xx, 111xx, 112xx-114xx & 116xx. Locking Folding Knives with blades longer than 4 inches. What that means is if you order.
It depends on where you live.