Tippmann TMC Paintball Marker Long Range Magazine Fed Paintball Gun 2 Mags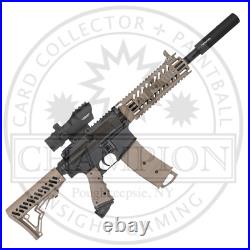 Tippmann TMC Paintball Marker - Long Range Magazine Fed Paintball Gun. Please note if you'd like to package this item with other paintball items such as a hopper, tank, mask, etc please feel free to browse our inventory. Please note this item is only able to be used for the sport of paintball. Description: This Tippmann TMC package includes some extra components to better outfit your paintball marker.
You get a Valken Tactical Red Dot Sight as well as an Empire 18 Apex Barrel. These editions to your marker will help you have an edge over your enemies. In This Package Deal You Receive.
1x Tippmann TMC with 2x Magazines. 1x Valken Red Dot Sight. 1x Empire Apex 2 Barrel System 18 98 Threads. Introducing the latest MagFed Extremely Authentic ARStyled Tactical Carbine Marker! Go MagFed or traditional loader and get the best of both worlds in one awesome package.
The TMC can be fully accessorized giving the player more unique options for Tactical Games, combining functionality with the World renowned Tippmann reliability for the next standard in MagFed Products. Proven high performing in-line bolt system. Dual feed option: can be hopper or magazine fed. Extremely authentic ar look and feel.
12 high performance barrel with muzzle break. Internal stainless steel gas line. Front and rear adjustable sights. AR-15 style shroud with built-in 4 sided picatinny rails.
Valken Red Dot Sight Specs. 30 MM Reflex Red Dot Sights. Strong and yet lightweight Fiber reinforced molded polymer housing.
Highly visible and bright CQB(circle plus center dot) reticle is perfect for use under strong direct sunlight. Finish: Flat Black or Tan. Empire Apex 2 Barrel System Specs. Curve your shot to hit "unreachable" targets. Adjustable ramp switch for desired level of curve.
Nine adjustment spin and curve positions to hit your target. Tool-less dis-assembly for easy maintenance. Left and Right Hook, Drop Shot, and Long Flat Trajectory Shots with the twist of the barrel. Insight Gaming 43 Vassar Road Red Oaks Mill Plaza Poughkeepsie, NY 12603. 43 Vassar Road Red Oaks Mill Plaza Poughkeepsie, NY 12603.