SHOCKER Vintage Paintball Marker Gun V-Sport Turbo (Needs Co2 + 3.7v Battery)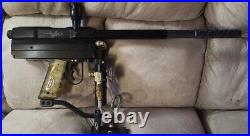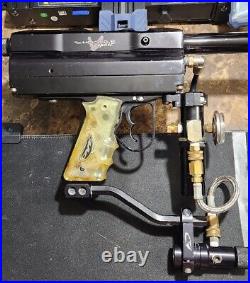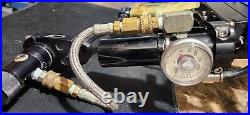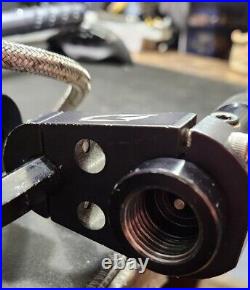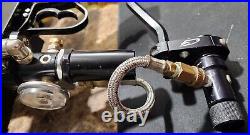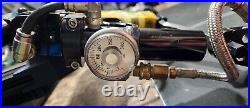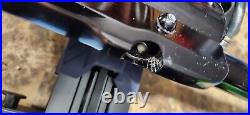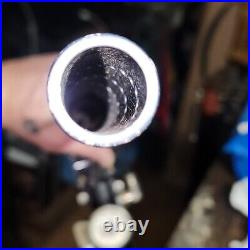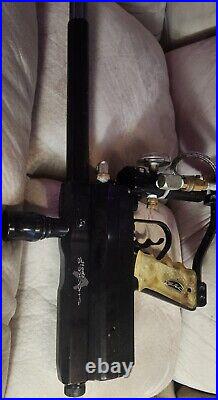 EVERYTHING SEEN IN THE PICTURES OR IS NEEDED FOR GUN TO WORK PROPERLY IS INCLUDED WITH PACKAGE EXCEPT FOR WORKING BATTERY AND THE Co2 TANK. THIS ALSO INCLUDES THE ADAPTER FOR BALL HOPPER WHICH IS NOT SHOWN IN ALL PICTURES, BUT I ASSURE YOU IT WILL COME ALONG WITH A SQUEEGEE AND MAYBE EVEN INCLUDE A BAG OF EXPIRED PAINTBALLS. Experience the thrill of paintball with this vintage SHOCKER Paintball Marker!
This electronic marker with Turbo firing mode is perfect for both novice and veteran players alike. Made by Smart Parts in the United States, this black-colored marker is a classic model of its time.
VINTAGE PAINTBALL MARKER THAT IS A REALLY FUN GUN TO FIRE. SIMPLY NEEDS A NEW 3.7v BATTERY SOME COMPRESSED AND YOUR GOOD TO GO.
BATTERY GOES UNDER THE PISTOL GRIP AND HAS RED LIGHT UNDER BARREL IN FRONT WHICH I DID TEST WITH MY POWER SUPPLY JUST TO MAKE SURE IT WORKED. THIS MARKER WAS SHOOTING PERFECTLY CLOSE TO TEN YEARS AGO AFTER I PUT IT UP IN CLOSET.
I'M FAIRLY CERTAIN THERE ARE NO ISSUES WITH HOSES CONNECTORS OR LINKS THAT HINDER A SOLID AIRFLOW. IF IT DOES FOR SOME REASON LEAK ITS ALMOST DEFINITELY FROM THE OLD TAPE DEGRADING.
Ideal for outdoor sports, this Paintball Marker is a must-have for paintball enthusiasts. Its unique features, such as the V-Sport model, make it stand out from other markers. Although it requires a battery, this used item is still in great condition and ready for action.