Planet Eclipse ETHA 3M Mechanical Paintball Marker. 68 Caliber Gun Earth Black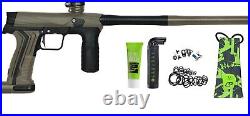 Planet Eclipse ETHA 3M Mechanical Paintball Marker. 68 Caliber Gun - Earth Black. THIS IS THE MECHANICAL VERSION OF THE ETHA 3.
"The Etha3M truly takes the Etha platform, and those who use it, to the N3XT L3V3L". It began with the Etha2, the electronic marker platform that re-defined affordable performance.
The levels of reliability, build quality, efficiency and just about every other performance metric were now available to those on a modest budget. It took the outstanding Gamma Core drivetrain to a wider audience. A drivetrain that was designed to perform flawlessly in any situation, any climate with total disregard for the levels of abuse it was subjected to.
A drivetrain that was the beating heart of the Etha2 and became the blueprint for modern advanced spool technology. And now, the Etha3M offers players a sleek, fresh approach to ergonomics with a host of notable performance upgrades. Its quick-release bolt assembly makes a huge difference to accessibility and maintenance which is typically found on much more expensive marker platforms. The aluminum low-rise feed neck reduces the overall profile of the marker.
But its the new aluminum trigger and mighty FL 3-way that makes a serious step forwards in terms of firepower. The lighter, more responsive and faster trigger cycling potential is jaw-dropping. Aluminum single-finger flat trigger - adjustable back stop. Super sleek GRN body and back cap. Buyers of Airsoft Guns must be 18 years old.
All Airsoft Guns have a permanently attached blaze orange tip according to Federal and/or State Laws. This prevents the Airsoft Gun from being mistaken for a real firearm.
We have completed tens of thousands of deals and want to make you our next satisfied customer! We offer the lowest price on quality new and used paintball guns and will not be undersold. We have the most knowledgeable staff of the used paintball equipment market in the world. Since 2006 we have logged over 100,000 trades... We offer fair wholesale cash offers on all types of paintball guns and gear.