FireBall 0.50 Caliber Pepper Pistol Paintball Gun Marker Self-Defense Weapon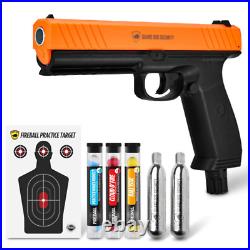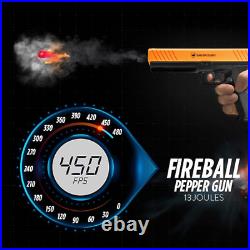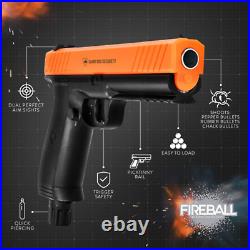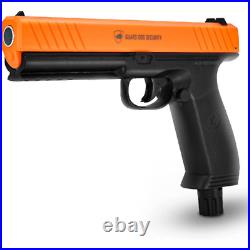 Take control of the outcome with the FireBall pepper launcher. The handheld gun shoots non-lethal balls at nearly 450 feet per second in a CO2 powered, semi-automatic and compact device. Ideal for home safety or on-the-go, the FireBall reaches up to 60 feet to provide maximum distance defense in an incapacitating cloud of protection.
Upon impact, the pepper bullets explode to create a firey cloud, giving you the freedom to shoot within the approximate radius of your target without worrying about precision. The integrated picatinny rail system allows for multiple accessory add-ons like laser sights, scopes or flashlights to make the FireBall even more dangerous. Pushing the boundaries of non-lethal. The FireBall shoots concentrated pepper bullets at nearly 500 feet per second to provide the ultimate level of protection and security.
With an effective distance of up to 60 feet you can rest assured your target is at arms length (30 arms to be exact). Up to 5 ammo types.
Choose from either red hot pepper, rubber/kinetic, practice chalk, painful POM or piercing aluminum. Engineered to last, built to protect. The semi-automatic gun is powered by a 12 gram CO2 cartridge in an easy-to-load 6-round magazine for rapid fire and instant reaction time. The integrated picatinny rail system allows you to seamlessly add laser sights, flashlights, scopes and more with ease. No permits, background check or licenses required, the FireBall is the most accessible and most effective non-lethal device available.
Includes Cloud o' Fire pepper balls (6), Practice Makes Perfect chalk balls (6), Ball'istic rubber balls (6), two CO2 cartridges and one foldable/hangable practice target.