Empire Defender DFender Electronic Paintball Gun Marker Black w Built in Loader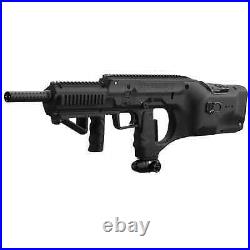 The innovative genius of Empire Paintball has been at it again with the creation of the Empire DFender. This radical design moves the loader off the top of the marker and places it within the stock of this bullpup-style masterpiece. The DFender has ultra-strong, lightweight magnesium shell with the high performance guts of our proven markers and a Z2 loader inside.
Reduce your silhouette and never take a hit on your loader again! High performance paintball marker with integrated loader. Magnesium shells for high strength and light weight. Break Beam Eyes in breech prevent ball chops.
Selector switch with 5 firing modes - Semi, Burst, Ramping, Full Auto, and Select Fire. ON/OFF Regulators with east -to-mount T-Slot rail. Smooth, programmable bearing trigger with 3-way adjustment.
Removable side Picatinny rails and top Picatinny rails for accessories. Inline pressure controlled poppet firing engine offers accurate fire and smooth shooting. Proven Empire loader performance with auto anti-jam.
Loader activates upon trigger pull, so constant feeding is guaranteed. Holds approximately 230 paintballs in the hopper section, and approximately 250 overall. Capable of firing 20 bps with continuous loading. Self calibrating loader speed sensor. 6 AA Operation for all electronics.
Includes both a standard magnetic lid and speed feed lid. Ported, Aluminum barrel with three Super Freak inserts. Additional Super Freak Apex2 barrel that creates shots that curve onto targets.
Multi-position sling adapter for those long treks to the battlefield. We leave our feedback after you have left feedback for us. If there is a problem, we will solve it. If you get your orders in by 2pm EST Friday we can get it out before the weekend. International Buyers - Please Note.
Doing that is against U. However we are not able to service warranties. Occasionally also get info about fields/scenario games we will be attending! We have been in the Paintball retail business since the end of 2006 and have even more playing experience between us. We answer almost all questions within 24 hours. (There may be delays on weekends as we sometimes leave town for Tournaments/Scenario games).