Dye Rize CZR Electronic Paintball Gun Marker Teal / Pink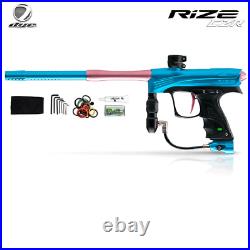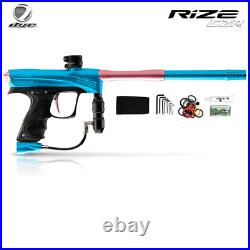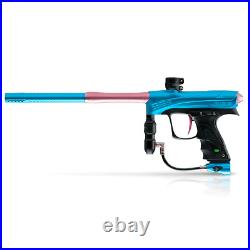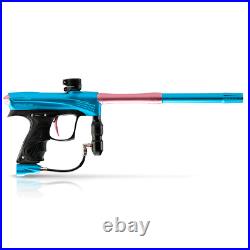 Dye Rize CZR Electronic Paintball Gun Marker - Teal / Pink. DYE's Rize CZR is packed with features normally only found on high end markers. Feature loaded with the precision True Bore Core 2pc 14 barrel, proven Hyper 3 reg, DYE UL on/off airport, DYE Lever Lock adjustable clamping feed neck, newly redesigned Ramp solenoid, and new Rize Fuse bolt give the Rize CZR the performance of a high end marker. Additionally, the Rize CZR is comfortable, accurate and has the ability to shoot fragile paint.
The UL 45 frame, dual density sticky grips, no slip reg sleeve, adjustable aluminum trigger and low profile balanced design provides a level of control and comfort not found in most markers. Keeping your Rize CZR operating at top level is simple and easy. Features like the internal anti-chop eyes, screw together bolt design, DYE's patented self-cleaning 4th Gen Eye Pipe and color coded o-rings keeps maintenance easy and you on the field longer.
The Rize CZR was designed for top level performance at a reasonable price. Marker comes with parts kit, DYE slick lube, barrel sock, tools and 9-volt battery. DYE Core 2 piece 14 barrel. DYE Lever lock adjustable clamping feed neck. Anti-chop break beam eye system.
4th Gen Eye Pipe breech system - self-cleaning with integrated ball detents. Patented Fuse bolt spool valve technology. Increased flow hyper 3 inline regulator.
Ergonomic UL Composite 45 frame. Dual Density injection sticky grip. Continuous 3-D contoured body design. LED circuit board with 4 tournament firing modes and adjustable rate of fire. Low 140psi operating pressure giving smooth, accurate performance.
New and improved solenoid offers durable, long lasting reliability. Quick release macro line hose. New and improved solenoid offers durable, long-lasting reliability. Color coded o-rings make it easy to quickly identify the correct replacement o-ring when performing maintenance on your marker. The polycarbonate 4th Gen Eye Pipe shields the anti-chop eye system from dirt and broken paint, creating a self-cleaning system that ensures the eyes are always monitoring the breech and ball drop. The seamless pipe is wiped clean by the bolt tip o-ring on every firing cycle. The adjustable cam lock lever allows you to securely lock you R-2 Loader onto your gun without tools.
DYE's Lockdown feed neck sits low and tight on the marker making sure your Rotor stays low profile with the rest of your gear. Introduced in 2010 the UL airport has dramatic curves and an aggressive look. It is designed to be small and light as possible. The UL airport is a balanced cam lever system with an easy turn on/off toggle.
When the knob is in the locked on position, air is delivered to the marker through the linear front port for maximum comfort and a streamlined design. The Rize CZR utilizes DYE's patented closed-spool valve design. With optimized airflow and improved bolt speed, he Rize CZR's redesigned Fuse bolt produces improved air efficiency, consistent accuracy, a smooth bolt cycle and minimal recoil. The proven Hyper regulator design has been greatly improved. This design is sleeker, smaller and consistent, offering precise increments of air pressure adjustment. Our new shim stack is more responsive and reacts quicker to pressure changes allowing better flow and a faster response. The Composite 45 frame draws from the same influences and progressive engineering as the innovative UL Frame, but uses an extremely durable nylon/fiberglass composite for unparalleled toughness. The hourglass shape was ergonomically designed to give the player complete control of the marker. It also allows players to quickly and effortlessly pull the trigger. An integrated heads up display LED light alerts you to the status of your marker without taking your eyes off the game. The wraparound Sticky Grip provides ultimate grip with a dual density design that gives the best comfort and control. The durable sticky grips offer extreme protection for your electronics and battery, but still provide quick access for service. The Rize CZR has one of the lowest profiles in today's market. It's streamlined for the most competitive profile possible.
With this compact profile comes dramatic weight savings as well. The bench marker for precision barrel accuracy. Compatible with all DYE barrels. Steady port - DYE UL 8 tip.
Self-aligning two piece construction ensures properly centered assembly between control bore and steady port tip. This combination of precision components provides an extremely quiet shot, superior accuracy and total performance. Two piece alignment is a critical factor in a barrel's true accuracy.
The self-centering, compound angled surfaces ensure proper back-to-tip mating by eliminating tolerance variations and thread wear from the equation. With Two Piece Construction you will have confidence of knowing that every back and tip combination in your kit will be as straight and true as a one piece barrel design.
Tracking numbers may take 24 hours to be active.