Dye DSR Plus Paintball Marker Gun Bandana Red with Black Red LT-R Hopper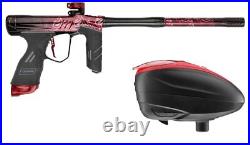 Dye DSR Plus Paintball Marker Gun Bandana Red w/ LT-R Hopper. The DSR+: The new DYE DSR+ is here for the encore.
Refined for today's demands for the newer player wanting out-of-the-box pro performance to the diehard tournament player, the new and improved DSR+ offers class-leading, unparalleled dominance for an increased competitive edge and more fun on the paintball field. Whether it's simply getting together with friends at your local field, or during an overtime point to move onto the finals of a championship game, the DSR+ will always perform when it matters the most.
The DSR+ takes everything from the previous championship winning platform and applies new and improved precision engineered features and enhancements throughout the marker for a next level performance. Some of the standouts to the all-star feature lineup include the newly designed ARC+ Bolt System with best-in-class efficiency and shot-to-shot consistency, new Flex SFR solenoid featuring custom tuning air flow control for individual shot signature preferences, new Edge2 Trigger with flat face design, new quick-turn battery cover lock knob for a quick and simple tool-less battery access, new Leverlock Clamping Feedneck for easy adjusting and new grip clearance to accommodate every player's grip style, along with a new, aggressive body design.
The evolution continues with DYE's ongoing development and advancement of marker technology. The DSR+ is the new and experienced player's choice for a confidence-inspiring, lightweight, compact and efficient machine that keeps you out on the field all day long, performing against any opponent you encounter.
The newly designed and updated ARC+ Bolt is DYE's groundbreaking engine that delivers top performance in a robust, reliable package. The ARC+ Bolt System's ultra smooth, quiet shot, best-in-class efficiency, improved shot-to-shot consistency and incredibly easy servicing is the end result of precise engineering and redesigned valve porting. Optimized flow paths, dwell independent valve control, air supply cut off and nearly zero chamber expansion are all critical to the ARC+ Bolt's air efficiency.
The controlled bolt acceleration, air spring, impact bumpers and ultra-low operating pressure ensure a smooth, quiet and accurate shot that is extremely gentle on paint. The proven Flex Bolt with soft-tip bolt face design ensures the most fragile paint will be gently carried through the breach, and helps protect irregularly shaped paint from clipping. With a flaring soft-tip design, this allows for no blowback or breach drag. A simple push button, quick-release system allowing the player to remove and reinstall the ARC+ Bolt kit in seconds for quick-and-easy simplified servicing.
Standard maintenance has never been easier or more accessible. Additionally, this robust gate system is air locked to prevent accidental bolt release and securely holds the bolt in place while under pressure. With the new Flex SFR Solenoid, you can custom tune the air flow control for individual player shot signature preferences. This allows the player to make the shot signature as smooth as possible or get a crisp, positive shot feedback. The flow control lever is easily accessed under the grip with a simple turn left or right for adjustment to your ideal shot signature.
The new Edge2 Trigger uses a flat face design proven by world class comp shooters. The offset parallel faces promote a lower perch on the trigger, creating greater leverage. Optimal tuning, unbeatable speed, reaction time and ultimate trigger control is found in the new Edge2 Trigger. New all metal, adjustable Lever Lock Clamping Feedneck securely locks in loader for a compact and low-profile. New quick-turn battery cover lock knob for an extremely simple tool-less access to battery housed in a durable, compact and comfortable front grip.
The DSR+ is powered by DYE's Method Operating System. The MOS gives the player unrestricted access to precision tuning and unsurpassed performance. The 5-way Joystick Control and high contrast OLED display screen provides an intuitive user interface.
The optimized MOS programming logic ensures lightning fast response time, long battery life, precision tuning, dual player profiles and training modes to store your exact playing specifications. Communication between frame and body is facilitated through the Freewire Connector pins. Compression pins ensure a positive connection between performance driving hardware and the MCU.
DYE Freewire Connector pins eliminate awkward wire routing, and dramatically improve serviceability. The DSR+ MOS feature truly is advanced performance in the palm of your hand.
5-way joystick control with high-contrast OLED display screen providing an intuitive user interface. Increased grip clearance to accommodate every player's grip style. New and more durable wraparound Sticky Grips with micro-texture providing the ultimate grip. A dual density design offers total comfort and control.
A single screw design utilizes a durable locking system to ensure a rock solid grip and quick access for service. The culmination of top pro player influence and progressive engineering.
Designed specifically for modern, double-finger triggers, the UL 45 Frame's hourglass shape is ergonomically designed to give the player ultimate control, comfort and performance for every in-game-movement. The UL 45 Frame combined with DYE's famous Sticky Grips offer a secure grip for stability and accuracy, while at the same time encourages a sustainable, rapid trigger speed. Most reliable, consistent and easy-to-service regulator in the game to give the best playing experience possible. The latest generation of DYE's trusted regulators is the most reliable and consistent regulator DYE has produced to date.
Features an efficient airflow path and consistent piston movement, along with a single coil spring and top load assembly for better access to all o-rings and easier servicing. Integrated into the Hyper 6 is a pressure bleed-off to ensure no air is trapped in the marker when degassed. A sleek, compact and balanced cam system with new on/off XL ASA lever for simplified use.
Now with an easy-turn, extra large on/off lever with no slip traction lobes, gassing up the DSR+ couldn't be easier. The recessed lever design protects from accidental degassing of the system.
A direct air passage improving ergonomics and performance. No pipes, hoses or complex routing paths are present on the DSR+. Switch shooting hands in tight situations with ease and comfort. Quick disconnect with contact pads to eliminate awkward wire routing and improve serviceability.
Features protected connection to help prevent water intrusion. DYE Patented 4th Gen Eye Pipe System with a self-cleaning operation for protection from harsh environments, preventing double feeds and chopping paint. Updated with breech geometry and independent detents designed to accommodate a wide range of paint sizes including extremely small paint. The 4th Gen Eye Pipe shields the anti-chop eye system from dirt and broken paint. The thick, durable polycarbonate pipe is wiped clean by the bolt tip o-ring on every cycle creating a self-cleaning operation that ensures the eyes are always monitoring the breech.
Your marker stays protected from harsh environments, eliminating permanent performance hindering breech wear. The new shape of the independent leaf spring detents are integrated into the eye pipe preventing double feeds and chopped paint, all while eliminating the need for bulky exterior eye plates found on other markers.
Pioneered by DYE and designed to allow quick identification of o-rings when performing maintenance. Self-aligning two-piece construction ensures properly centered assembly between control bore and steady port tip. This combination of precision components provides an extremely quiet shot, superior accuracy and unbeatable performance. Compatible with all DYE barrels and markers.
New lightweight, aggressive body design coming in a variety of anodized looks, representing the highest level of artistry in paintball markers. All-aluminum body construction with no exposed screws or eye plates.
Features an EVA foam lining for secure protection of the DSR+. DYE Slick Lube, mini o-ring kit, quick-start guide, DYE Core allen key set and barrel sock are included with marker.
The Dye LT-R Rotor: Introducing the LT-R, the latest addition to DYE's family of innovative loaders. LT-R was created to provide every style of player a loader that retains the quality performance that's needed to win at a price tag that's unmatched. The LT-R utilizes proven DYE loader technology that fuses top-notch functionality with mind-blowing feed rates and reliability.
Trusted quality and proven consistency have made the DYE Rotor platform the number one choice in loader technology among paintball players worldwide. Patented Rotor technology provides smooth, consistent, and rapid feeding. This is made possible by the combination of the LT-R's constant feed carousel and the opposing rotation of the Rotor center arm.
The LT-R features a simple tool-less design with a low profile shell that allows for a 200 ball capacity. The patented spring loaded floor tray makes sure that paint ends up in your gun. Adjustable feed tension and a built-in anti-jam release trigger makes sure your patented constant feed hopper can handle any paint and condition.
The interchangeable carrier/spring lid allows for a quick and easy change between lid and optional DYE Quick Feeds. LT-R sets standard for battery efficiency, powered by only 3 AA batteries allowing the hopper to get 80,000+ balls shot count. The LT-R has a variety of upgrades such as color kits, quick feeds and high capacity tops. Patented Rotor Force Fed Technology, 30+ balls per second. Tool-less disassembly; completely break down the Rotor without any tools. Shark fin Jam Release Trigger effortlessly gets you back in the action in the event of oversized or out-of-round paint. Adjustable torque feature allows the user to fine-tune torque settings manually with an allen wrench. Battery life of over 80,000+ ball shot count with only 3 AA batteries. Black ops feature enables you to turn the indicator LED off during those night or lowlight games. Buyers of Airsoft Guns must be 18 years old. All Airsoft Guns have a permanently attached blaze orange tip according to Federal and/or State Laws. This prevents the Airsoft Gun from being mistaken for a real firearm. We have completed tens of thousands of deals and want to make you our next satisfied customer! We offer the lowest price on quality new and used paintball guns and will not be undersold. We have the most knowledgeable staff of the used paintball equipment market in the world. Since 2006 we have logged over 100,000 trades... We offer fair wholesale cash offers on all types of paintball guns and gear.