DIGITAL CAMO Gtek paintball gun -empire tank -cmd goggles -spire IR2 hopper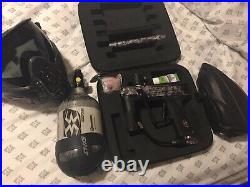 Full marker setup everything is unused fully functional as intended. This is the original Gtek marker. This Will Shoot Ropes while being highly accurate and light-weight. It also has a very solid feel.
W/ empire 68ci 4500 tank Bunkerkings cmd goggles (black samurai) Virtue spire IR2.