CLEARANCE Azodin Blitz 4 Electronic. 68 Caliber Paintball Gun Silver Gold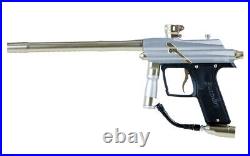 The Azodin Blitz 4 Paintball Marker is fully operational; shows limited signs of use. Spare parts kit / Tools may or may not be included. Stock Photos Shown - Request actual pics if necessary. 68 Caliber Electronic Paintball Marker is the latest and greatest from Azodin's signature Blitz series.
Truly a more focused marker than its predecessor and promises an unrivaled experience. Improved with a compact regulator that can do fine tuning and a screw-lock feedneck that meshes with its aggressive milling. The Blitz 4 is a union of form and function that is better in every measure.
Streamlined, User Friendly, Lightweight, Durable and Reliable. PSP RAMP 10.5 BPS. FULL AUTO (10.5 BPS).
Compatible with CO2 and HPA. Weight: 970 G / 2.14 LBS / 34.22 OZ. Length: 480 MM / 18.9 IN. Height: 238 MM / 9.37 IN. Width: 30 MM / 1.18 IN.
Feedneck Thread: Ion / Impuse Feedneck Thread. Low Pressure Inline Regulator: Standard ASA Thread. Tracking numbers may take 24 hours to be active.